A Race Against Time:  Assisting Malaysians Based in NZ to Return Overseas Postal Votes for Their 15th General Elections.
articles
As we head into the New Year, we would like to reflect on the Malaysian community in NZ, whom Stace Hammond Lawyers supports as the secretariat to the NZ Malaysia Business Association (NZMBA). Malaysia recently held its 15th General Elections (GE15) on 19th November 2022. Unprecedented numbers of 48,109 overseas postal voters exercised their voting rights against a race of time (compared to just under 8000 in the previous general election in 2018), combined with a 73.89% voter turnout on home ground. The vast increase to postal voter numbers and voters across the board was due to the Constitution (Amendment) Act 2019 ("CA2019"), gazetted into law on 10th September 2019, which lowered the voting age from 21 to 18 years, and introduced automatic voter registration for adults aged 18 and above.
Stace Hammond is honoured to have helped the NZ Malaysian community in carrying out their civic duties and voting rights by offering its assistance as a ballot collection and document witnessing centre, which received couriered and hand-delivered ballots from Malaysians all over NZ.
We wish all Malaysians well in moving forward with its 10th Prime Minister Datuk Seri Anwar Ibrahim helming a unity government, with the unreserved support of the majority of lawmakers in a confidence vote in Parliament on 19th December 2022.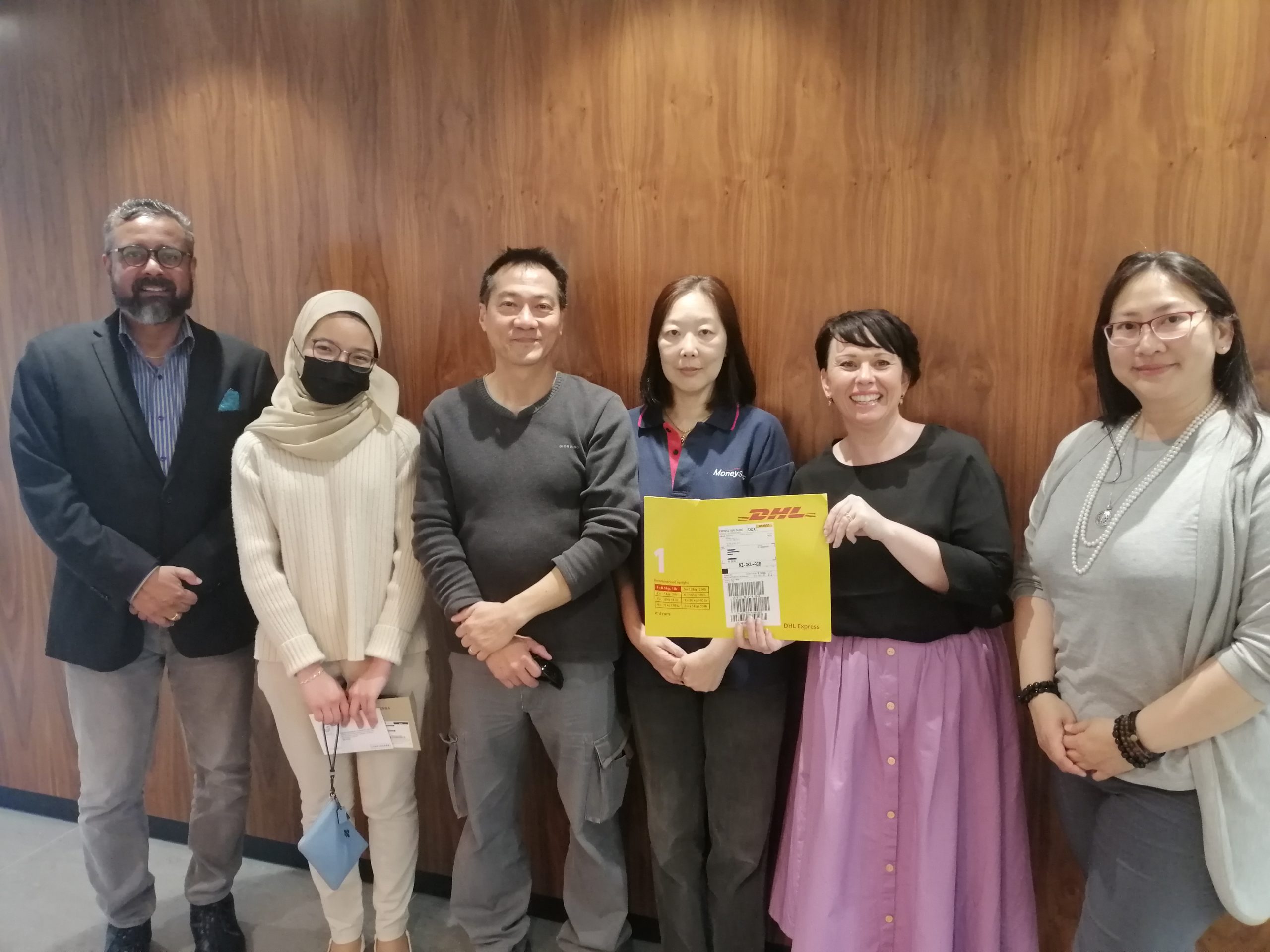 A press statement prepared by NZMBA was published on 17th December 2022 in Malaysia's national news agency, Bernama and also in the New Straits Times. The statement documents the lengths Malaysian voters went to ensure their votes counted; we share their story with you:
Based on 2020 United Nations statistics, there are about 1.86 million Malaysian living overseas. In 2022, the figure is suspected to be higher. Most are in the bordering countries like Singapore, Indonesia, and Brunei. Unofficial sources peg the number of registered overseas postal voters for the 15th General Elections (GE15) to 50,000 which is a staggering increase compared to just under 8000 during the 14th General Elections.
Polling day is on the 19th of November, leaving 14 days for overseas voters in an almost impossible race to receive and return their ballot using normal international courier lines, added with the uncertainty if these courier lines will still be operating in Malaysia on polling day itself. Ballots will take time to be received at the voters' overseas address, they will then have to choose their elected representative, find a Malaysian witness for their ballot identity form, and locate an express postal service, and mail it back to Malaysia. To many in rural places overseas, this can be a momentous task, let alone the urban centres. The returning officer at the relevant constituency must receive the ballot by the time polls close at 5pm MYT in order for it to be counted otherwise all the voters' efforts will be in vain.
From past experience in GE14, most ballots arrived in the 2 to 4 days prior to polling day with many international couriers having to turn away desperate overseas Malaysians wanting to courier their ballots home. Out of sheer necessity, Malaysians organically began the inaugural "GE14 Amazing Race" to fly their ballots home in time, depending on nothing but trust, compassion, and a united network of Malaysians across the globe, and at home, blurring all racial lines and intolerances to ensure their votes counted. This GE15, the Malaysian diaspora have embarked on yet an another "Amazing Race" albeit in a more coordinated fashion.
The Malaysian diaspora in New Zealand are getting help from a united network of associations and individuals in New Zealand (NZ) : Malaysians in New Zealand and selfless volunteers, NZ Malaysia Business Association ( NZMBA ) and it's secretariat, Stace Hammond Lawyers, Bersih NZ (Bersih 2.0 New Zealand), combined with the expertise and assistance Global Bersih, Global Malaysian Network (GMN) , and plugging into the Undi 18 ballot delivery network in Malaysia. These entities and countless individuals have combined forces to help Malaysian voters in NZ understand the overseas postal voting process, guide them in a logistics plan that spanned the North and South Islands of the island nation, to fly their ballots home to Malaysia.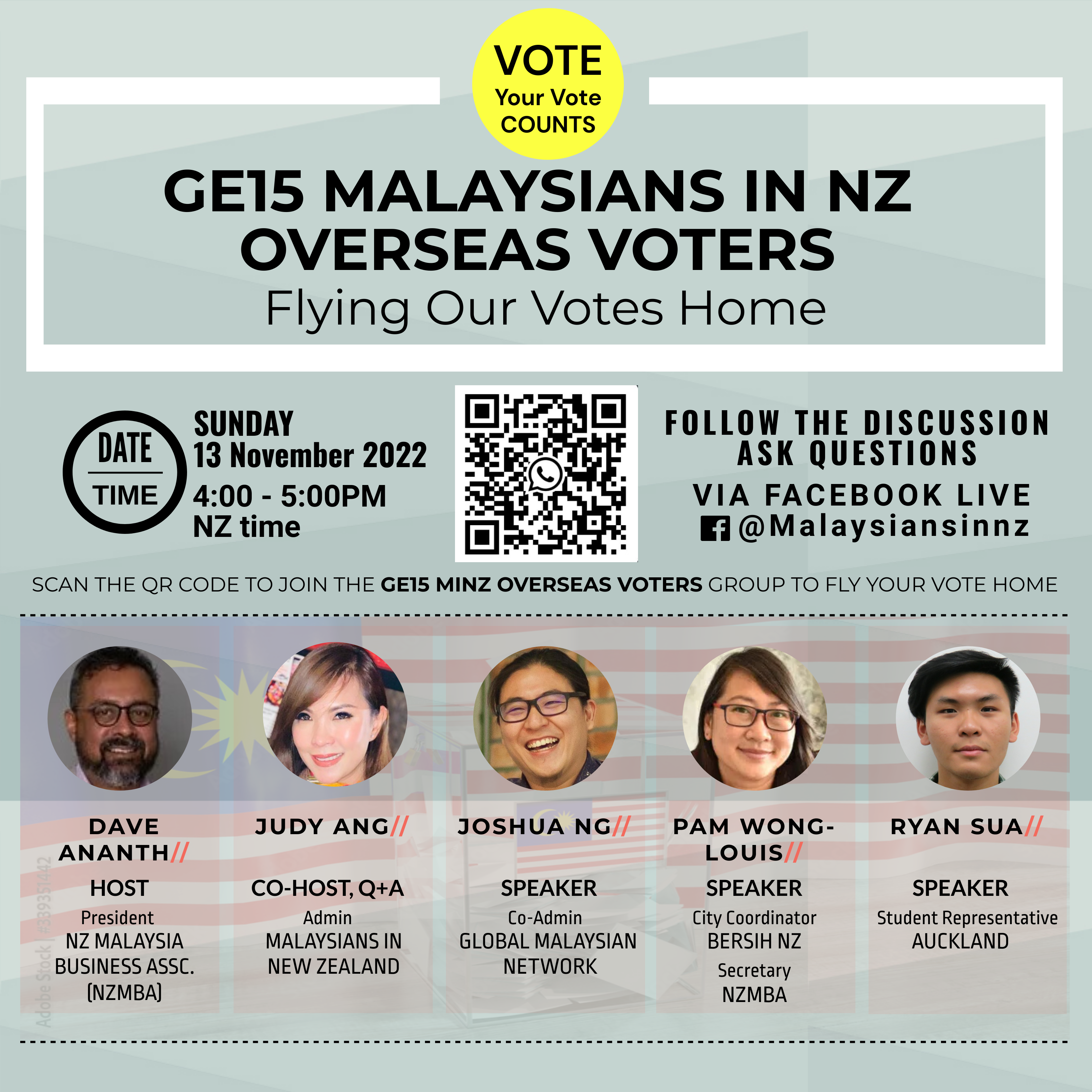 NZMBA President Dave Ananth and NZMBA Secretary Pam Wong-Louis who is also the city coordinator for Bersih NZ under the larger Global Bersih umbrella, both commented "We decided to step in as many Malaysians were confused, on how to get their votes home within a short time frame. There are many students, holiday workers, tourist and Malaysians visiting family from Auckland to Queenstown besides those who are permanent residents here. Many are young voters for the first time who are anxious to make sure they get their votes counted. The tight deadline is a real worry, they added.
Ballot secrecy and tampering was an issue that had to be considered, as well as the flyers safety through customs, carrying the sealed ballots of unknown voters. In order to maintain the sanctity and the integrity of the vote and address these security issues, the NZMBA garnered the support of its secretariat, Stace Hammond Lawyers to act as a witness and ballot collection point in Auckland, where the majority of votes are centred.
The Election Commission (EC) had set nomination day on 5th November 2022 and the overseas postal voter ballots were released on 7th November 2022. According to Pam, "Ballots started arriving in New Zealand from 14th November from statistics garnered from a NZ-wide poll carried out by the NZ team. Due to strict cut-off times that have to be adhered to in order to send off as many ballots collected NZ-wide to Malaysia by 17th November 2022, arriving the next day, many ballots may well be left behind. Nevertheless, every ballot counts and each Malaysian voter here who has sent their ballot home is proud to fulfil their civic duty as a Malaysian citizen. It is this ownership of the right to vote, that is the spirit of democracy that Malaysians carry with them across the globe."
The NZ team, from previous experience in GE14, realised that most of the ballots would be incoming two days before polling and realised that there would be a gap between polling day and the Undi18 collection cut-off point on the eve of polling day, whereby late incoming international flights bearing last-minute ballots would have no one to help them receive and deliver the votes. As such, the team embarked on establishing a delivery network in Malaysia for all countries, consisting of runners on motorbikes, cars and domestic flyers. The NZ team initially sought the help of Bersih NZ's old runner networks and contacts during GE14, but in order to expand the network very quickly they sought out the assistance of hundreds of dedicated and selfless volunteer runners and flyers through Global Bersih and the Global Malaysian Network. Thus, the GE15 Volunteer Runner Network (VRN) was born as an initiative under the Global Bersih and Global Malaysian Network umbrella. Within one and a half weeks, an entire network encompassing all Semenanjung states (except Langkawi); Kuching, Bintulu and Kota Kinabalu in East Malaysia were established.
The essence of this massive cooperation was based on the humanitarian principles of trust, honesty, and kindness, carried out in true Malaysian spirit through a principle of "tumpang nasib". It is a principle that is prevalent throughout Malaysian life, from the villages to the urban centres, where one shares their kindness and generosity with another to help them get ahead. From the overseas Malaysian voter who entrusted his ballot to volunteers who helped to witness, check and seal his documents, to strangers who flew his and countless others' votes home, to the volunteers in Malaysia who wait patiently at the international airports to accept incoming ballots, to those who are tasked with sorting ballots into the early hours of the morning, to the runners who will ferry the ballots all the way to the overseas postal voters ballot boxes. It is an endearing and unforgettable sight to behold Malaysians from all walks of life, blurring all racial lines and political ideologies, to be unified in a vision of a better Malaysia for all.
Subscribe
Get insights sent direct to your email.